If you happen to be a WordPress beginner, you do need to know how to customize your themes. For instance, if you do not know how to use CSS manually, you could have a real problem with WordPress theme customization. However, when you use CSS hero plugin, you get the best WordPress themes at a little cost and this gives you more time to work on other areas on your WordPress site. By so doing, you will improve user experience as well as improve customer appeal for your visitors. As such, you get WordPress theme customization with little trouble. This review will prove without a shadow of a doubt that the CSS plugin has made theme customization easier. Therefore, as a beginner, this review will give you intricate details on customizing WordPress themes using this plugin.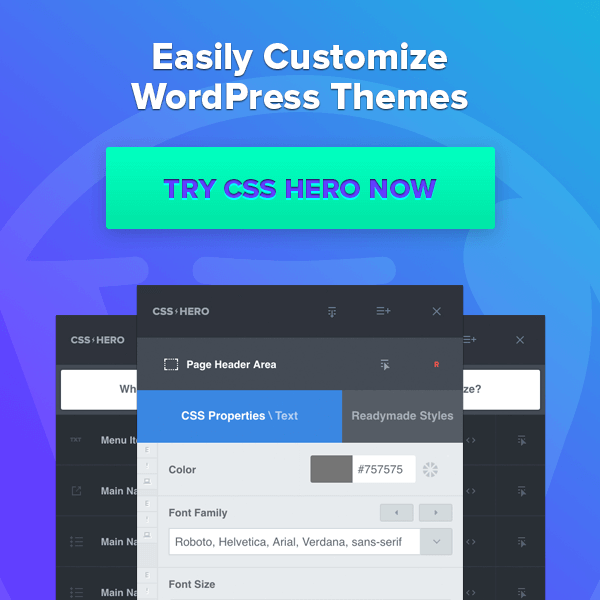 What is CSS hero plugin?
CSS Hero is a plugin for WordPress provided as a premium package. This plugin allows you to design personal WordPress themes without the need for coding. Therefore, no CSS or HTML is required.
You have the capability to undo any changes you make under custom WordPress themes using this plugin. Furthermore,
changes you make are saved using an additional stylesheet and this means you are able to upgrade any WordPress theme and not worry about any changes getting discarded by the plugin.
In case you work as a designer, CSS hero plugin will be equally as good as it works well with all WordPress themes as well as frameworks. Therefore, changes can be made to a child theme and include exporting the changes to a client's website.
Using CSS Hero, you save time and frustration while making the best WordPress themes.
You may be skeptical about point and click design customization when using this plugin as it may take up much space. However, CSS Hero is different and the WPbeginner blog gave it 5 out of 5 after testing.
How you can use CSS hero
for WordPress theme customization
To begin, you need to install as well as activate the plugin. To get more details on this, follow this link.
This premium plugin has a starting price of $29 for a single site. Considering what you get for this plan, it is a worthy investment for your WordPress theme customization.
If you have the CSS hero coupon code, WPBeginner will give you 34% off the price as a discount. If you take the pro version using the same code, you get a 40% discount; this is worth the price if you need a good WordPress theme customization plugin.
Once you activate the plugin, you are directed to obtain a CSS hero license key. Follow the instructions that appear on-screen and you will be back to your site in a few minutes.
The main goal for CSS hero is the provision of a "what you see is what you get" interface to help you design WordPress themes.
Once logged in to your WordPress site, you will see a CSS hero tab on your admin bar.
Clicking this tab converts your WordPress site to live preview. You can now see your CSS hero toolbar.
Next, click on any element on your WordPress site and CSS hero will show you the CSS properties that you can use for that element.
These elements include typography, background, spacing, borders, among many others. Click on any of these items and edit CSS properties using the simple user interface.
As you make these changes, you will notice that custom CSS appears below as though by magic. If you are learning CSS, see how useful and different changes from CSS are applied in the live preview.
There are royalty-free images available for your site. CSS Hero has a built-in Unsplash integration that allows for browsing, searching, and application of beautiful photographs in your WordPress website design.
There are also ready-made snippets that are applicable for different elements of your site.
The changes you make are saved in the CSS hero plugin prior to publishing them. To apply the changes, just click on save and publish tab.
Undo changes in
CSS hero: How to do so
This is one of the best features you will find while using this plugin. The plugin allows you to keep a history of any changes you make to your WordPress themes. All you need to do is click on the history tab on the toolbar and see a list of previous changes made.
You can use dates to select how your site looked at a certain time. For instance, if a WordPress theme customization leads to less traffic on your web due to affected user experience, you can check for a theme that had a better appeal to your users at a specific date.
You can then revert to that time and restore the changes. The changes that you make will also be saved and you will be able to get back to that theme at a later date.
If you want to revert to changes made for a particular item, you do not need the history tool. Just click on the element and select the reset button.
Make any changes you need while checking previews for mobile devices as well. This tool is essential when making custom WordPress themes for tablets and mobile devices.
CSS hero theme compatibility
CSS hero site has an increasing list of compatible themes. The list includes the best free WordPress themes.
Popular premium themes include CSSIgniter, Themify, StudioPress, and many more.
Non-compatible themes on CSS hero
There is a feature known as Rocket Mode Auto-detection on CSS hero. In case you use a theme that is not compatible with the plugin, it shifts to rocket mode automatically.
Rocket mode helps guess CSS selectors that your theme has. If your theme has WordPress coding standards, you will edit almost anything you need for your site.
Contact a theme developer to help you find out which themes are compatible with CSS hero.
The above information should be helpful to you if you need to spice up your WordPress website using the best WordPress themes found in this plugin.
Checkout quick video review on CSS Hero

Source: CSS Hero
Conclusion
In conclusion, the above discussion has looked into how marketers can save time by using Google search operators cheatsheet. Essentially, the discussion portrays that you get to waste much time and get the wrong results without knowledge of these search operators. Therefore, learn to master these hacks and they will make your marketing research less tedious but you will provide quality material for your website audience.
Here are a few more topics that you shouldn't miss:
StudioPress Review: The Best Theme Provider
BuddyPress Transfer Your WordPress into a Social Network Platform
Effects of Change in WordPress Theme over SEO Ranking Factors
Like this post? Don't forget to share