That is what this ProWritingAid review seeks to find out. In this review, I will give you a detailed explanation of how this style editor and grammar checker works. In the end, you will have enough information to know whether ProWritingAid is worth it or not. I will also show you the uniqueness of this writing software over other premium grammar checkers available in the market. At the end, I will also give you details of a free book that is meant to enhance your writing techniques as an author from the team behind ProWritingAid. Additionally, there is a discount on this grammar and spell checker if you decide to download it here.
This ProWritingAid review will benefit anyone online writer, whether you are a student, copywriter, editor, or a freelancer. I will highlight all the relevant features that make this tool a perfect alternative to Grammarly.
If you are all set, let's get straight into it!
What is ProWritingAid?
ProWritingAid is an online writing editor and personal writing coach that cleans up virtually all types of write-ups by identifying grammar and spelling mistakes, plagiarized content, and contextual errors.
You can use ProWritingAid software to write online content such as blog posts, books, editor's notes, academic writing, and any other writing that requires polished grammar and spelling.
You can access ProWritingAid editing software on both Windows and Mac through a web browser. The software also supports several file formats, including Google docs, Microsoft Word, and Scrivener. They have not yet developed dedicated apps for Android or iOS devices.
Any writer can use this grammar checker when polishing their work to make it perfect. However, it is more suited for those in the fiction writing industry. Later on in this article, I will explain why it is convenient for fiction writers. But, first, let's check out what ProWritingAid does and what makes it a great Grammarly alternative.
What Does ProWritingAid Do?
ProWritingAid allows you to check both the spelling and the grammar aspects of your content. Besides that, the writing software help users improve the readability of both online and offline writing.
To write this review, I did extensive tests on both the desktop and the web app. This is what I found out about ProWritingAid and how it works:
To use the ProWritingAid, you first need to open it on your desktop
What follows is the uploading of your document in supported formats (Word, Scrivener, Markdown, text files and more)
After that uploading your documents wait for some time as the app scans the document
The app will then display an editing panel with text from your uploaded content to check for grammar and spelling mistakes
If there are any spelling mistakes, they will be underlined in red
All writing errors like incorrect sentences, writing styles, sentence construction, and weak writing like passive voice, will be underlined in yellow
Grammatical errors will be underlined in blue
If you are not sure of what you are supposed to do or correct, just hover over, and the tool will give you suggestions
It is a good idea to read a few ProWritingAid reviews first before settling to buy. Some are written with the specific type of industry in mind, while others focus on simplicity and intuitiveness, lacking advanced features needed by experienced users. You can also find software that caters to a large group of customers and offers a complex feature toolbox, but mostly, the price is high. With all that information, be certain that you're aware of what you need so that you purchase a solution that offers all the functionalities you are looking for.
The online editor allows you to extensively look for the following in your content:
Grammar Checker
Spelling Checker
Detailed Explanation
Find Repeated Words
Context-Sensitive
Style Suggestions
Word Explorer
Contextual Thesaurus Report
Visualize Sentence
Lengths and Variation
In-Depth Reports
Mac and Windows Support
Time-saving Integrations
Plagiarism Checker (for premium plans)
GRAMMER CHECK – DEMO
IS YOUR CONTENT SAFE FROM PLAGIARISM?
I get a lot of questions from my readers who want to know whether content uploaded on ProWritingAid if free from plagiarism or duplicity. The answer is no. Content uploaded for proofreading on ProWritingAid is safe, and you don't need to worry about your work being used by other writers using ProWritingAid. The reason being that the software doesn't store or save any text after you are done proofreading the document. This applies to both premium and paid versions.
How You Can Use Prowritingaid To Improve Your Writing Skills?
ProWritingAid offers several unique ways to help you improve your writing skills. Here are some of them which are done in real-time:
The All Repeats report is a useful feature of ProWritingAid that allows you to overused words in your content, which you can get rid of by replacing them with alternative names. This also helps you to expand your vocabulary and writing styles.
Another excellent feature of improving your writing techniques is the Cliché report, which allows you to observe what you have used in your dialogue to ensure there are no cliché sentences. This is also an excellent tool for polishing your sentences.
ProWritingAid has an inbuilt dictionary and thesaurus to help you consider the choice of words you intend to use in your content. This is an excellent feature for automatically detecting overused inappropriate words and offer suggestions of what would be proper in that particular sentence.
It also has a Spelling Consistency feature that allows you to be cautious when alternating between the US and UK English
With the Readability Report feature, you can easily estimate the time it will take for your readers to read the document and whether they will understand it.
ProWritingAid utilizes the world-famous readability test for English known as the Flesch Reading Ease Score. This feature allows you to gauge how readable your content is in the English language. With the premium version of ProWritingAid, you can check for grammar and spelling mistakes in real-time. This feature is found in the upper left corner of the editing screen that updates as you edit. This is important as it will give you an overview of whether you are improving your article or making it worse while writing.
FASTER EDITING AND STYLE IMPROVEMENT
The prowriting aid software offers faster editing has an inbuilt advanced editing tool where you can find words you need to edit immediately. This makes your work easier as you can begin editing each word quickly. It also has style-improvement suggestions related to your writing style. It detects elements like poor sentence construction, repetitiveness, vague wording, sentence length variations, passive voice usage, and over-dependence on adverbs.
LEARN AND PREVENT SIMILAR MISTAKES IN THE FUTURE
There is a feature in ProWritingAid that allows you to improve your writing over time. The more you write and edit your writing using this software, the more you become proficient in your writing. With the reports that are provided by the software, you can learn the writing mistakes that you have made so that you can prevent the same mistakes in the future. ProWritingAid editing tool is very good at pointing out various common mistakes in your writing and helps you remove bad writing habits gradually. Apart from generating cleaned-up materials, the plugin has tracking and reporting tools for users to identify their common writing errors. This allows them to continuously improve their work by learning from their mistakes.
USE EMBEDDED THESAURUS TO REMOVE GRAMMATICAL ERRORS
The ProWritingAid online editing tool for is the only writing editing software that provides contextual spelling, grammar and punctuation checking. It has extensive functionalities that guarantee error-free write-ups. It integrates with standard grammar and spelling checkers, taking into account the different writing styles of writers. ProWritingAid premium plan license supports both Windows and Mac, thus allowing more users to utilize its different functionalities.
PLAGIARISM CHECKER TOOL
Most editing tools for only provide the grammar and spelling checker tool, but ProWritingAid software provides more. The editor has a plagiarism checker tool that ensures your writing is not only good but also unique and free from any plagiarism. ProWritingAid editing tool also integrates with various solutions to expand its capabilities, avoid formatting mistakes, and save on time. Writers rarely notice repeated words, or they overlook the inconsistencies when a word was replaced. Many writers drag ideas by making sentences too lengthy. ProWritingAid helps users track these common writing mistakes by highlighting repeated and replaced words throughout a document and suggesting different sentence lengths.
How Much Does ProWritingAid Cost?
Users can choose from four SMB and enterprise pricing options. Here is a detailed breakdown of its pricing plans.
ProWritingAid pricing plan:
The free version cost $0 per year
One year will cost you $50 or €60
If you want to use it for two years you will pay $75 or €90
You will save $50 or €60 if you pay $100 or €120 for three years
If you want to use it for life, you will have to part with $175 €210
You can also sign up here if you want to get a 25% discount on these prices. What makes ProWritingAid pricing plans convenient to its users is that you don't need to pay every month to renew your subscription. Besides that, the cost is relatively low compared to other grammar and spell checkers that range between $15 – $20 per month.
Unlike other grammar checkers, you don't have to pay a monthly subscription. It's also more affordable than other premium grammar checkers, which typically cost €20-30 per month. For online content writers who want to check their work for plagiarism, an extra $10 for ten checks or $10 per month. One hundred plagiarism checks will cost you €40 more. If you pay annually on ProWritingAid Premium Plus, you will get 50 checks per year with an extra $10 or €10.
BULK PRICING
If you decide to purchase in the bulk of 1-year multiple licenses, you can enjoy the following discounts:
• 3-4 licenses: 10% discount
• 5-9 licenses: 15% discount
• 10-15 licenses: 20% discount
• 16 or more licenses: 25% discount
Difference between PWA Free and Premium
For those who don't check for grammar and spelling checks frequently, you can start with the free version of ProWritingAid. However, it offers limited features. The free version of ProWritingAid costs $0 per year and offers the following:
Summary Report of Key Issues
19 Writing Reports
Edit 500 words at a time
Use online only
ProWritingAid Premium version costs $60 per year, offering:
All features from the free version
No word limit • Desktop version
Integrations for MS Word, Google Docs, Chrome, and Scrivener
ProWritingAid Premium Plus version costs $70 per year and includes the following features:
All of the premium version
50 plagiarism checks per year
Perfect for academics
Academic Pricing for ProWritingAid – By quote
The online editing tool for also offers multiple licenses for academic institutions for a few dollars per student.
Before subscribing for any premium package, you can ask for a 14-day trial period to decide whether it is the right pricing plan for you. You are also entitled to a 25% discount if you sign up here.
PROWRITINGAID REFUND POLICY
Another great thing about ProWritingAid, 14-day money-back guarantee if you are not satisfied with what they are offering.
ProWritingAid Integrations with Online Writing Tools
ProWritingAid also offers several Integrations with other online writing platforms and tools such as Microsoft Word, Google Docs, and Scrivener. This makes it easier for you to check your content for grammar and spelling errors in different file formats.
ProWritingAid is not only available as desktop software, like other editing tools for , but also on various platforms. The tool enables third party integration, where you can use it on various devices that you have. You can install it on Windows and Mac as a standalone app, or install the browser extension for the Chrome browser. You can also integrate this software with your current word processing applications, such as Microsoft Office or OpenOffice. Additionally, the web-based version is available freely for everyone to use, with some limitations.
If you are curious about how these integrations work, let's go through a few of them.
PROWRITINGAID FOR MICROSOFT WORD
If you are using Microsoft Word to write your content, ProWritingAid tools and toolbar will be added into Microsoft Word
ProWritingAid is compatible with 2007. 2010, 2013, 2016 Microsoft Word versions
However, you can't use it with Word for Mac, since it's not consistent. Other features of ProWritingAid function well except Word
PROWRITINGAID FOR GOOGLE CHROME
This editing and proofreading software has a browser extension for Chrome
The extension allows users to use ProWritingAid functionality for their online writing
You can also use the browser extension in your social media pages, including Facebook, Twitter, and Google Hangout. It also with other online writing platforms like and Gmail.
PROWRITINGAID FOR GOOGLE DOCS
ProWritingAid works effectively on Google Docs
You can use this online editing software to check whether you are subscribed to the premium version
PROWRITINGAID DESKTOP (SCRIVENER, RICH TEXT, OPEN OFFICE, MARKDOWN INTEGRATION)
With your desktop ProWritingAid app, you can work with text from other writing software like Scrivener or Open Office, and you won't distort your writing format.
You can still access the premium version for two weeks as a free trial if you want to find out if it the right writing aid for you. You can do this by requesting a 14-day trial while on the free version. This means a two-week free trial is available for any free version user to taste the waters first before subscribing for the paid version.
Grammarly Vs ProWritingAid – How Do They Compare?
My recent review of Grammarly had almost the same features as ProWritingAid. However, there are a couple of features found in ProWritingAid that are lacking on Grammarly. To find out how the two stack up against each other, let's check out the comparison chart below:
From the chart above, it is clear that besides its low cost, ProWritingAid also has more editing features. This doesn't mean that ProWritingAid is better, or Grammarly is inferior to it. To better understand their differences in terms of performance, you need to check out the following Video. Their differences will surprise you.
Here is the best comparison video review  Grammarly vs ProWritingAid

Source:- Kindlepreneur
ProWritingAid Alternatives
ProWritingAid is a great tool when you want to improve your writing skills. However, different writers have different needs when it comes to editing and proofreading. If you feel that ProWritingAid doesn't rise to the occasion, there are several alternatives you can choose from, including Ginger, Grammarly, and WhiteSmoke.
When I am writing my reviews, I like to test and compare what other similar tools offer. Overall, ProWritingAid is a perfect writing app for fiction writers or if you are using Scrivener. Additionally, you can settle for it if you want to cut the editing cost due to its affordability. You can also check out Grammarly Review: Is This Grammar Checker Worth It?, which is my comprehensive Grammarly review.
Get a Free Book from ProWritingAid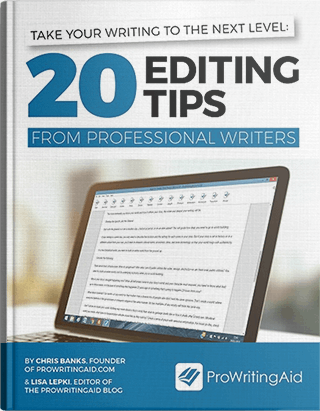 Their team is offering a new book: Take your writing to next level: 20 Editing Tips From Professional Writers
This book will help you decide to go with traditional, indie, or hybrid publishing.
And it's free. Check it out
ProWritingAid Coupon and Student Discount
If you decide you're ready to get everything the latest version of ProWritingAid Premium has to offer you, enjoy getting 20% off the list price at the checkout by using the special ProWritingAid Coupon for NamanModiDigital readers below:
Save 20% on ProWritingAid by using the below promo code:
Pros and Cons
When looking to buy Grammar Checker Software it's not always good to rely on experts' evaluation of the product, but also what the end-user says about it. That's why ProWritingAid has a behavior-based algorithm that gathers customer reviews, comments and ProWritingAid reviews across various social media sites. The information is relayed in a simple form showing how many people had a positive and negative experience with ProWritingAid. This equips you with the right information and you can decide whether or not to purchase the product.
Pros
Allows you to edit your text faster
 His thousands of style improvements, with an accurate grammar and spelling checker tool
 It learns as you edit, and it is available on multiple platforms
Cons
The plagiarism checking tool is only available in the most expensive plan
Only yearly and lifetime payment options available
The free version has a word limit for editing, and it is available online only
Checkout quick Video Review
Source: ProWritingAid Support
Conclusion
Every writer needs ProWritingAid editing software to develop better writing skills and help them become excellent writers. It doesn't focus only on writing mistakes but also deals with overall writing quality. This results in high quality, easier to read, unique, and free from any errors content. It makes your writing worth to publish and read.
For more detailed information Here are few more topics that you shouldn't miss:
Grammarly Review: Is This Checker Worth It?
Grammarly: Has it really revolutionized writing?
10 Tips for writing foolproof SEO friendly Content
Like this post? Don't forget to share