Affiliate marketing is a great way to earning. You can use it to earn an honest living as a full-time or as a tool for generating an extra income. However, the level of success you will record in this field depends on the company you choose to work with. One such company you can affiliate yourself with is ShareASale. In our review, we shall show you how you can use this company's affiliate marketing potential to grow yourself as an affiliate marketer.

Here are a few terms that you need to be conversant within to understand how ShareASale works.
1. Merchants: A merchant is described as a business owner who sets up an affiliate program so that affiliates are able to join and push more sales to their business, which in return they benefit from a given fixed commission.
2. Affiliate marketer: An affiliate marketer is any user like you or me who joins an affiliate program and promotes it using blogs, PPC, and other avenues.
3. Affiliate software: ShareASale is a good example of affiliate software. It is a self-hosted server where affiliate program is hosted.
4. Affiliate marketplace: To discover new opportunities as an affiliate you need to get a marketplace to join an affiliate program. At the same time, a marketer can get exposure from their affiliate program.
---
Getting started
There are thousands of affiliate programs out there but ShareASale stands out tall. Most of these other companies offer peanuts as a commission but ShareASale gives you an opportunity as a partner. Affiliate marketing gives bloggers a stronger footing to earn commissions compared to all ad networks.
ShareASale affiliate works as an intermediate between the merchant and affiliate. As a blogger, you should take advantage of over 2000 merchants who have products and services and would like to spread the word ShareASale. At the same time, the same number of affiliates promote products offered by merchants and earn a good commission through it.

Affiliates get paid by writing about products or services and reviewing them to receive payment when their readers click on the links and finally end up buying their goods or services.
At ShareASale affiliates can send requests to merchants to join their program. Details needed by merchants are provided in the ShareASale account and one can write personalized requests to affiliate. Information such as blog URL, blog niche, affiliate blog and the reason behind promoting a certain product is provided by the affiliate. This will give the merchant the reason to either accept or reject the affiliate request.
Shareasale Affiliate program does reward you by selling the product in two major types of promotions.
1. Pay per lead.
This is where the advertiser can pay you based on the conversion of leads like file downloads, completion of sign-ups from newsletters, trial offer signups, or any other given action. If a client is directed to an affiliate link that will enable them to view an ad according to affiliate agreement, then you receive payment.
2. Pay per sale.
This type of promotion relies on the conversion of sales. When a client successfully follows a link to the advertiser's site, and end up purchasing the product according to the affiliate agreement, you get paid. Although the commission on pay per sale is high, the conversion rate is rather low.
---
How to sign up to ShareASale
Signing up is free and very easy.
1. Start by going to ShareASale affiliate program login site
2. You can now choose between affiliate or merchant. An affiliate promotes the product by earning a commission while the merchant promotes his own product for sales.
3. You can then click on affiliate sign up joining as an affiliate or as a merchant.
4. Proceed with completing the sign-up form and wait for a confirmation mail from ShareASale.
You will not be disappointed choosing ShareASale affiliate program and you can rest assured of value for your money.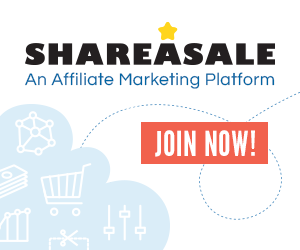 Pros
• Lots of affiliate programs to choose from
• Easy to use and navigate
• Solid reporting features
Cons
• Sometimes doesn't notify affiliates when merchant's programs are shut down
• Payment threshold may not appeal to some
Check out Quick Video Review On ShareASale
---
Our Verdict
Even though it is not the best affiliate marketing network out in the market, or now, it is not easy or even imaginable for any serious affiliate marketer can ignore it. With more 15 years of experience in the industry, this company can help you successfully monetize your website due to its user-friendly approach, useful tools, real-time reporting functions, and incredibly valuable affiliate services. If you seek to build your affiliate marketing muscles, then ShareASale is the way to go.
Here are few more topics that you shouldn't miss:
7 Best Affiliate Marketing Plugins and Tools for Affiliate Marketers
Newbie Mistakes made by Affiliate Marketers
Make Money from Affiliate Marketing
Like this post? Don't forget to share